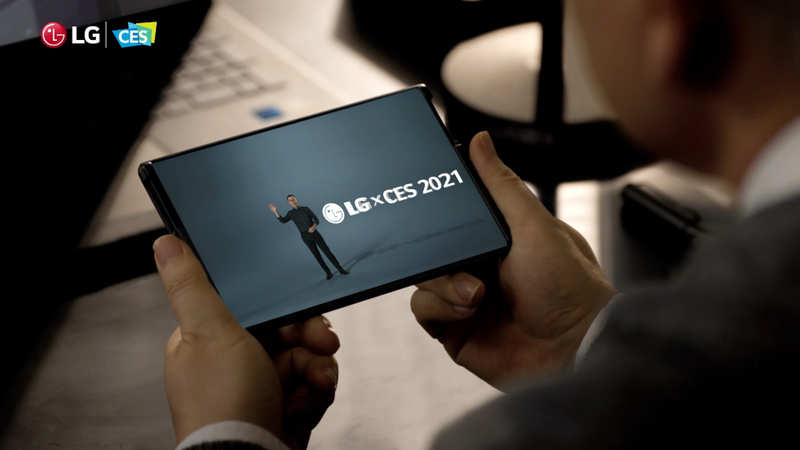 Every year at the Consumer Electronics Show in Las Vegas a plethora of cool gadgets is at display. Brands use the annual trade show to show off concepts, new technology, innovations that are meant to dazzle you. Despite the ongoing pandemic, CES 2021 has been no different in that regard as there have been a slew of impressive gadgets and tech on show. Here we bring you 10 cool devices and gadgets that may come in 2021.
LG Rollable phone
Move over foldable and swivel phones, 2021 could see a rollable phone. LG showcased such a device called the LG Rollable — it has a "resizable screen" which can slide in and out of place to give more real estate on the screen. LG has said that it will launch the Rollable in 2021. 210
Razer Smart mask
What looks like a rather routine N95 type of mask is in fact a smart mask. Called Project Hazel, it can listens to your voice and then intelligently reproduces it through the two speakers. It also has a self-sterilisation feature. No word on pricing or availability of this smart mask yet. 310
Ampere Shower Power
A speaker that fits in the shower head? That's exactly what this Ampere speaker is. Powered by Bluetooth, it can fit in any shower head. What's more it has a hydropower system that "works like a water wheel in a dam." Before the flow from your shower reaches the shower head, it rotates an internal impeller, which is connected to a mini-generator that charges a battery. The moment water starts to flow, Shower Power starts to charge. Sounds cool, right? It should be available in 2021 with the exact price not known. 410
Samsung AI-powered Robot
Robot tech gets better each passing year and Samsung showcased its JetBot 90 robot vacuum cleaner that can work efficiently and smoothly to clean your house. The price of this robot hasn't been announced as of now. 510
Panasonic wireless charger
The wireless charger with a difference. Or at least that's what Panasonic claims. The wireless charger is meant for cars and has a wireless charging coil moves into the optimum position to align with the mobile device's charging coil. It should be available later this year but price isn't known. 610
Customisable refrigerators
Bored with your usual look and design of the fridge at home? Samsung's Bespoke is a smart fridge that is customisable with four doors. You can pick and choose your finish as well as any colour you want. LG showcased similar tech at CES 2021 as well. 710
LG Instaview refrigerators
Simply say "open the refrigerator door" and this fridge will open up. You can also check the status of the ice or even ask what's on you agenda, and this smart fridge from LG can do it all. It is expected to launch later this year. 810
Lenovo AR glasses
The ThinkReality A3 are AR-powered and feature a 1080p resolution. Powered by Qualcomm's Snapdragon XR1 chip, the glasses also have a pair of fish-eye cameras provide motion tracking. The glasses can be tethered to a PC or a select few Motorola phones as well. Set to be launched in mid-2021, the price of these glasses hasn't been announced. 910
Oticon More: Smart hearing aids
These smart hearing aids from Oticon feature Bluetooth tech and one can stream music and talk on the phone using them. Oticon More hearing aids enhance speech understanding in both noisy and quiet environments as well. 1010
Samsung Solar Remote
Samsung TVs in 2021 are expected to come with solar remotes and it's the step in the right direction. It reduces e-waste and is eco-friendly. Not to forget the remote can be charged using both indoor and outdoor lights.